Derma Franchise Company in Himachal Pradesh – It won't be wrong to say that the skin care industry is booming. There is huge demand for derma products in the Himachal Pradesh as well. Although, Himachal Pradesh is situated in the lap of nature, with fresh air through pine trees but it's not skin issues prone. There are numbers of Derma Franchise Companies in Himachal Pradesh, which provide various skincare medicine and Cosmederma Remedies is one among them. 
This top Derma PCD Franchise Company in Himachal Pradesh has the products portfolio and pipelines of improving skin health through our branded derma drugs. Our company Cosoderma is expanding its presence in every state of India, therefore, we also offer the opportunity for Derma pharma franchise for the states of India.
 We, Cosmederma Remedies provides high-quality derma and skin care products which are manufactured with complete terms of international standards. Our every medication take shape as the guidelines mention by the GMP and WHO in our own manufacturing plant. Cosmederma Remedies is now looking forward to expanding the pharma franchise business, therefore, we established our Derma Franchise Company in Himachal Pradesh.
Cosmederma Remedies is on the mission to deliver the best quality derma medicine range to their customers at most reasonable market price range along with best quality service. Our derma pharma franchise company will keep continuing our mission by gradually improving our machinery, derma medicines, skin care products, quality and customer services. Our purpose is to reach in every corner of Himachal Pradesh. Therefore for we have open the opportunity for Derma Range PCD Pharma franchise in Himachal Pradesh. With this pathway, we can easily able to reach in between the people of HP.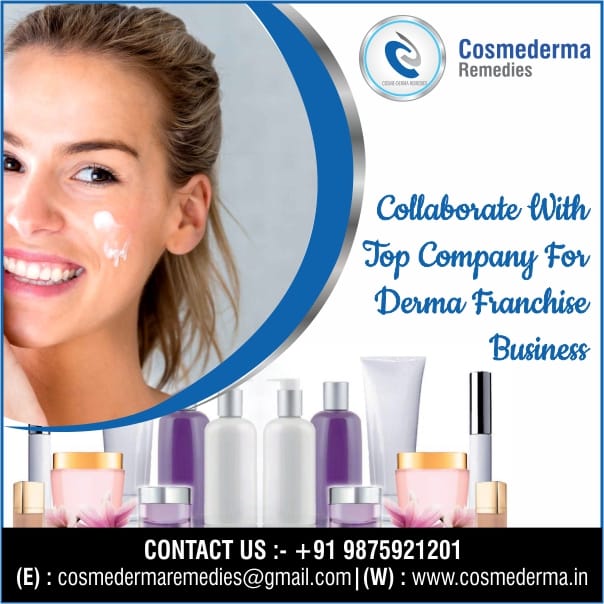 We offer great benefits and rewards to our derma franchise partners which helps them to improve the growth of pharma business. If you are looking for the best franchise opportunity then you are in the right place. You can reach easily to us through our registered contact number +91-9875921201. Even you can share your views, queries or feedback with us through our official email address cosmedermaremedies@gmail.com. Our pharma franchise company is always here to provide you the best backup support.
A Rapid Growth in Demand for Derma Medicines in Himachal Pradesh
 The skin diseases are growing rapidly in the Himachal Pradesh state. There is a huge demand for derma medicine and skin care products coming from the Bilaspur, Chamba, Mandi, Hamirpur district of Himachal Pradesh.
The reason behind the increase in demand is the change in living lifestyle, unhealthy diet, air and water pollution or allergy from any kind of medications. These leads towards some of the major skin diseases in H.P.
Psoriasis: A scaling and swelling skin disease. Most psoriasis causes silvery-scale patches of thick red skin. These patches may have itching or feeling sore. On the elbows, knees, other legs, scalp, lower back, face, palms, and feet soles, they are often found. But they can also appear in other areas. Psoriasis can be difficult to diagnose as it may look like other diseases of the skin.
Rashes or Basic Dermatitis: Due to seasonal weather changes rashes on the face, inside the elbows, behind the knees, on the hands and feet.
Therefore there is always a great demand for the derma medicine range in the Himachal Pradesh districts. We, Cosoderma Remedies after seeing the necessity of skin care products, we introduce our best and innovative Derma Franchise Company in Himachal Pradesh.
'Cosmederma Remedies' –  Best Derma Franchise Company in HP
Cosmederma Remedies, our company Derma Pharma Franchise, is supported by leading pharmaceutical specialists and has a team of highly qualified and experienced professionals. The company has advanced technology and state-of-the-art manufacturing unit that helps manufacture the best products. Join us and get the greatest opportunity for your business to grow. Being Himachal Pradesh's leading Derma PCD pharma franchise Company, we're never compromising our product quality.
As one of the most trustworthy names in the pharmaceutical sector, we ensure quality production practices that match international quality standards. Our primary motto is to provide a high-quality range of derma medicines/drugs and skin care products to people in this country that do not affect their pocket.
What We Offer to our Associate for Derma PCD Franchise in Himachal Pradesh?
Our derma franchise company is known to develop and market innovative skin care products. The company has the market's good reach. We, Cosmederma Remedies provide our associates with good support to help them set up their business. The following are few things that make us the best in the pharmaceutical sector for the PCD pharma franchise business in Kullu, Shimla, Solan, Sirmaur, Lahaul and Spiti districts:
Best Promotional and Advertising Support: Our derma pharma company understand the growing marketing competition in Himachal Pradesh regarding the pharma franchise business. Therefore to improve the derma pharma business of our valued clients, we offer them the best promotional tools and marketing support.
So that they can easily establish themselves in the derma pharma marketplace. We provide the strongest backup support to our PCD Pharma franchise associates and keep them updated with the lastest derma medications and products.
Our Quality Promise: All our derma and skin care products are produced using the raw materials of high quality. We ensure that the best product range is delivered and that both our partners and customers are ensured.
Be our pharmaceutical franchise partners and get the industry's best advantages and growth opportunity with leading derma franchise company of Himachal Pradesh. With the type of services we offer to our associates, we assure you the success with us. 
Highly Demanded Product Range for Derma PCD in  Himachal Pradesh
Cosmederma Remedies delivers its associates with the best quality. Our Company makes sure to deliver medicine which is best in quality. With the motive to serve customers with innovative and effective results, we work with the best pharmaceutical professionals. 
Below is the range of Derma Products for Franchise in Himachal Pradesh:
Tablet
Capsules
Lotion
Ointment
Gel
Serum
Powder
Facepack
Contact Us
A great business opportunity for the people of Himachal Pradesh. Associate with the specialty derma franchise company of Himachal Pradesh and explorer your pharma franchise business boundaries at more height.
Name: Cosmederma Remedies
Address: SCF No. 246, Motor Market, Manimajra, Chandigarh, India
Phone No: +91-9875921201
Email Id: cosmedermaremedies@gmail.com