Derma Franchise Company in Punjab – Nowadays the scope of pharma business is growing day by day in India. The number of large and small scale pharma companies are establishing their pharma business by offering their pharma franchise services. And, there is a great scope of Derma range products for the pharma franchise business. So if you are looking to start Derma Franchise business then you need to join hands with Cosmederma Remedies. The is best Drema PCD Pharma franchise company in Punjab that is offering monopoly based franchise in all the cities of Punjab like Amritsar, Jalandhar, Ludhiana, Patiala, Bathinda, Hoshiarpur, etc.
Our Company, Cosmederma Remedies is popular because of the commercialization and development of prescription Derma pharma products. We constantly keep our focus on diseases affecting the skin. Our Derma Franchise Company in Punjab is a global skin health solution company, with a wide range of skin treatments, products, and services that meet the unique need of unmet need skin patients, their loving ones and doctors. With the years of experience and hard work, today Cosemederma Remedies has enlisted the name in the list of best dermatology pharmaceutical companies in India.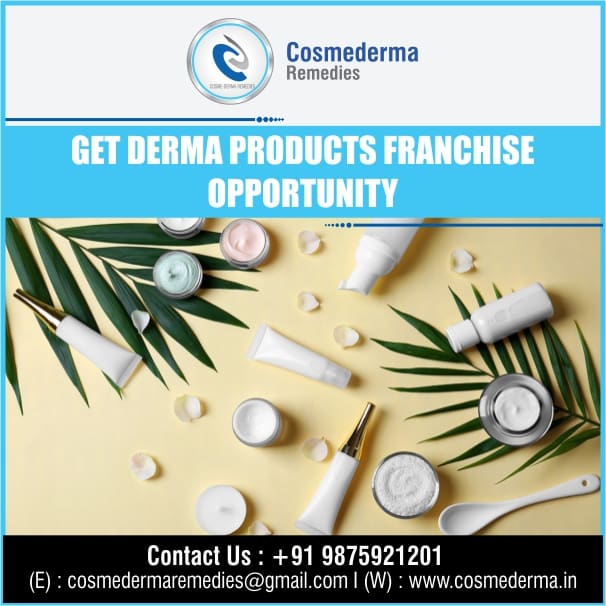 Join with the best Derma PCD Franchise Company in Punjab, you can contact us at +91-9875921201 or write us your query on our official email address cosmedermaremedies@gmail.com. Cosmederma Remedies is always here to support and guide you well for pharma business.
Cosmederma Remedies 'Best Derma Franchise Company in Punjab'
Cosmoderma Remedies is the foremost derma products franchise company
in India. Our company is in search of initial derma markets as well as platforms in various parts of Punjab. Our growing company, therefore, welcomes distributors or business partners to join hands and to become part of the great success story.
We are looking for Derma pharma franchise, PCD, distributors, and partners from financially constant localities, districts or areas of Punjab, India for the development plan.
Experts with extensive experience in the field of pharmaceutical marketing and sales can also communicate. Our commitment is quite clear that by offering a rich range of quality medicines to satisfy our customers. You could enter the great and vast empire of the derma pharmaceutical industry through our business opportunity as Pharma Franchise in Punjab.
How to Become Deram Franchise Associate in Punjab?
It is indeed a great opportunity and can result in countless returns on profit. If you are a newcomer in the pharma field then it is quite necessary for you to have the knowledge about the derma franchise segment. Here are some important steps to get this Derma Pharma Franchise Business:
Make sure you are sufficiently eligible for the business. Now you have to prepare properly how to coordinate each and every work.
Your Derma franchise company that has been shortlisted should have strong market recognition. You must have enough investment to spend on this business
A franchise agreement is essential to be signed in order to progress with this particular business. Before investing in it, read the Derma franchise agreement thoroughly.
Exclusive Range of Products with Composition
Cosmederma Remedies is the top derma franchise company that deals in a wide range of derma products. Our range of products is highly demanded in the market. For associating with our derma pharma franchise company you should know the range of our products. 
Tablets Range of Products for Punjab Derma Pharma Franchise Business
Cetrizine 10mg
Levocetrizine 5mg 
Levocetrizine 5mg  + Montelukast 10mg
Fexofenadine 120mg
Fexofenadine 180mg
Capsules Range Derma Pharma Franchise for Punjab 
Lycopene + Astaxanthin + Black Grape Seed Extracts + Methylcobalamin + Multivitamins + Multiminerals + Antioxidants
Itraconazole 100mg (Granules Form)
Itraconazole 200mg (Granules Form)
L-Glutathione 250mg + Alphalipoic Acid + Vitamin C + Grape Seed Extract
L-Glutathione 500mg + Alphalipoic Acid + Vitamin C + Grape Seed Extract
Lycopene + Black Grape Seed Extracts + Multivitamins + Multiminerals + Antioxidants
Derma PCD Franchise in Punjab for Soft Gel Capsules 
Isotretinoin 10mg   (Alu-alu)
Isotretinoin 20mg   (Alu-alu)
Biotin + DHA + Folic Acid
Evening primrose oil 1000mg
Benefits to Indulge with Top Derma Pharma Franchise Company in Punjab
Our company has invested so many years in this specific drug range that has made us in this specific business sector quite prominent. There are many good reasons that help us make a difference in the marketplace. Go through the below-mentioned points to know, how are best from other Derma Franchise Company in Punjab:
GMP and WHO Collaboration.
DCGI approved drugs 
Deliver the on-time delivery of products.
The effective and latest way of packaging is adopted by the company. 
Ensure maximum customers satisfaction.
A wide range of high-quality products. 
Backed by best logistics networks and partners.
High-tech Machinery and cutting-edge technology.
Diverse Range of Derma Products for Top Derma PCD Franchise in Punjab
Cosmederma Remedies is the leading derma franchise company that understand the market scenario and thus, provide the range of products which are highly demanded. We tend to provide the best result through our exclusive range of medicine which is manufactured after a good research. We produce our derma products by using high-quality ingredients and rich resources that are supplied by the best vendors. The Company has an impressive product portfolio which is appreciated by skincare specialist and patients all across the country.
Here given below are our products for derma PCD franchise in Punjab: 
Lotion
Serum
Syrup
Capsule
Ointment
Gel
Cream
Powder
Shampoo
Soap
Contact Us
Waiting for what? Shake hands with one of the most prominent Derma Franchise Company in Punjab and get the opportunity to deal with quality  skin and hair care products. Cosmderma Remedies is the top Derma PCD Franchise in Punjab offering the best support to its derma pharma franchise business partners along with affordable product range.
Name: Cosmederma Remedies
Address: SCF No. 246, Motor Market, Manimajra, Chandigarh, India
Phone No: +91-9875921201
Email Id: cosmedermaremedies@gmail.com